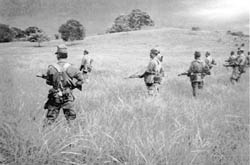 Mexican army drug patrol
Mexico's top human rights official called last Friday for an end to the use of the Mexican Army in President Felipe Calderón's war against powerful drug trafficking organizations. The army has committed numerous human rights violations, he said, including rape, robbery, torture and murder.
José Luis Soberanes, head of the governmental
National Human Rights Commission
, made the call for the removal of the military from Mexico's bloody drug war -- more than 1,500 people have been killed so far this year -- as he released reports on four widely-publicized incidents of human rights abuses by the military. They are:
Soldiers are not trained for law enforcement, Soberanes said, and should be replaced by civilian police. "A policeman is trained to deal daily with citizens," Soberanes said, "and in necessary cases uses gradual and measured force. A soldier, because of the delicate nature of his task, is physically and mentally trained to fight enemies and obey orders."


Faced with escalating violence among drug trafficking organizations and between them and Mexican police, President Calderón deployed the military in various cities and states in the country beginning late last year. Thousands of troops were sent to Michoacán, Sinaloa, and other drug producing states.
---